Your Hosts at the Hotel Gstaaderhof
The Huber family is in its second generation of directing the Hotel Gstaaderhof. Christof and Konstanze Huber have led the hotel since December 2014 - they took over the family business after achieving degrees in Hotel Management and gaining years of experience in the hospitality industry.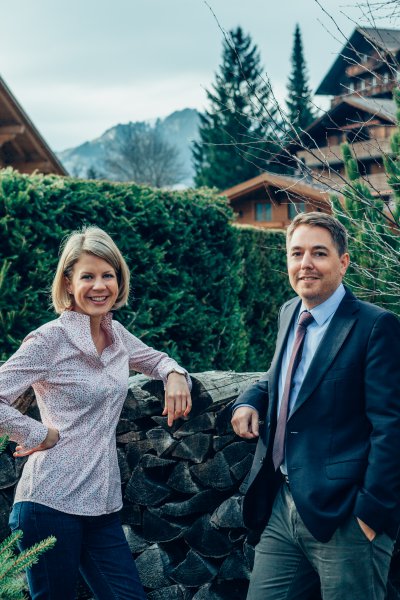 Christof's parents, Doris and Jost Huber, directed the Hotel Gstaaderhof for 34 years after its opening in 1980. Under their leadership, the hotel grew while continuously expanding its services. The pair opened a spa area in 2001, renovated all guest rooms in 2004, and restored the hotel's facade and drive in 2011/12. Doris and Jost Huber are avid hikers and are happy to have more time to spend in the mountains now that their son has assumed responsibility for dailyhotel operations.

The Hotel Gstaaderhof staff is always inventing new treats for our guests - from delicious restaurant dishes to guided trips. The whole Gstaaderhof team looks forward to hosting you and doing everything possible to make your stay both comfortable and entertaining.

Konstanze & Christof Huber
Doris & Jost Huber-Schärli